LEGO Reveals the newest addition to the Creator Expert Modular line, the 10260 Downtown Diner!   The set is 2480 Pieces, 6 minifigures and will be available on January 1 at LEGO Stores, and ShopLEGO.com.  I really like the design and the change away from the previous modulars to include different faces on the figs.  I will be picking it up to give you a detailed review on January 1.  Below are more pictures and the official Press Release from LEGO.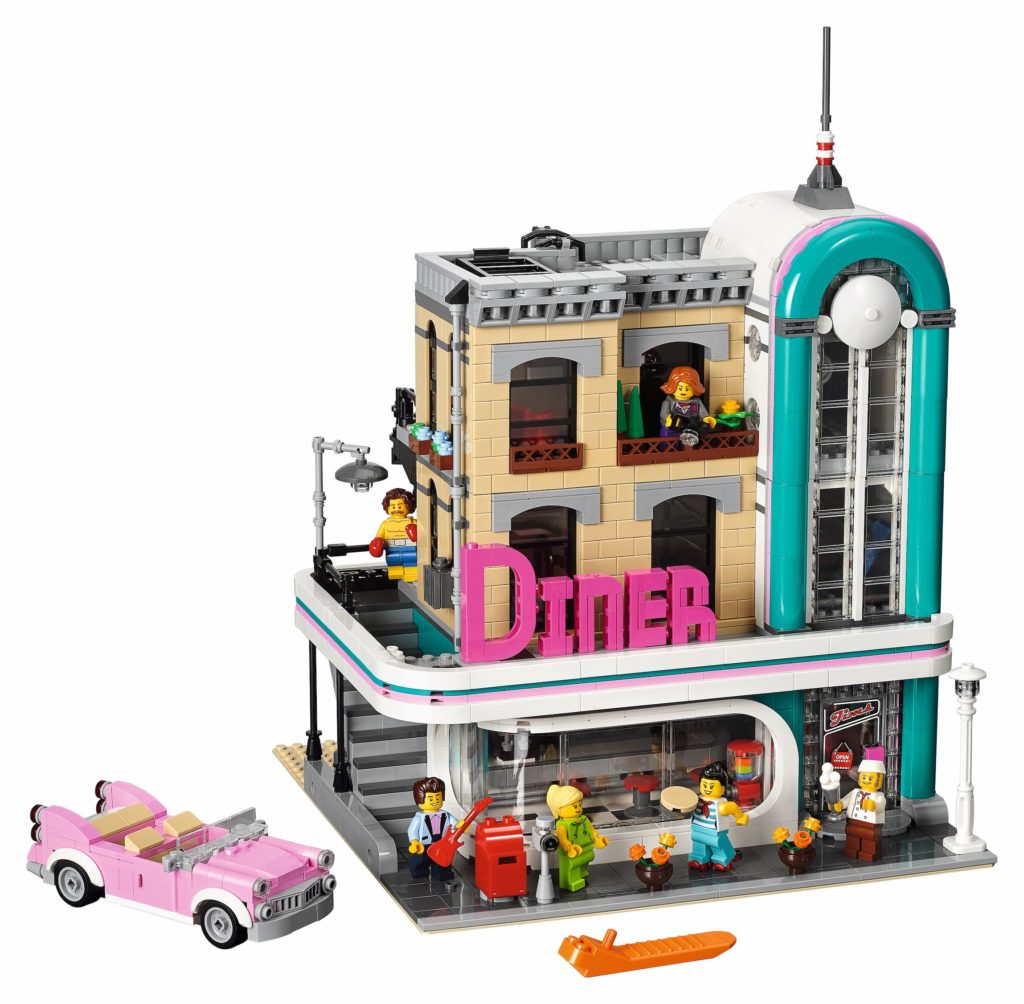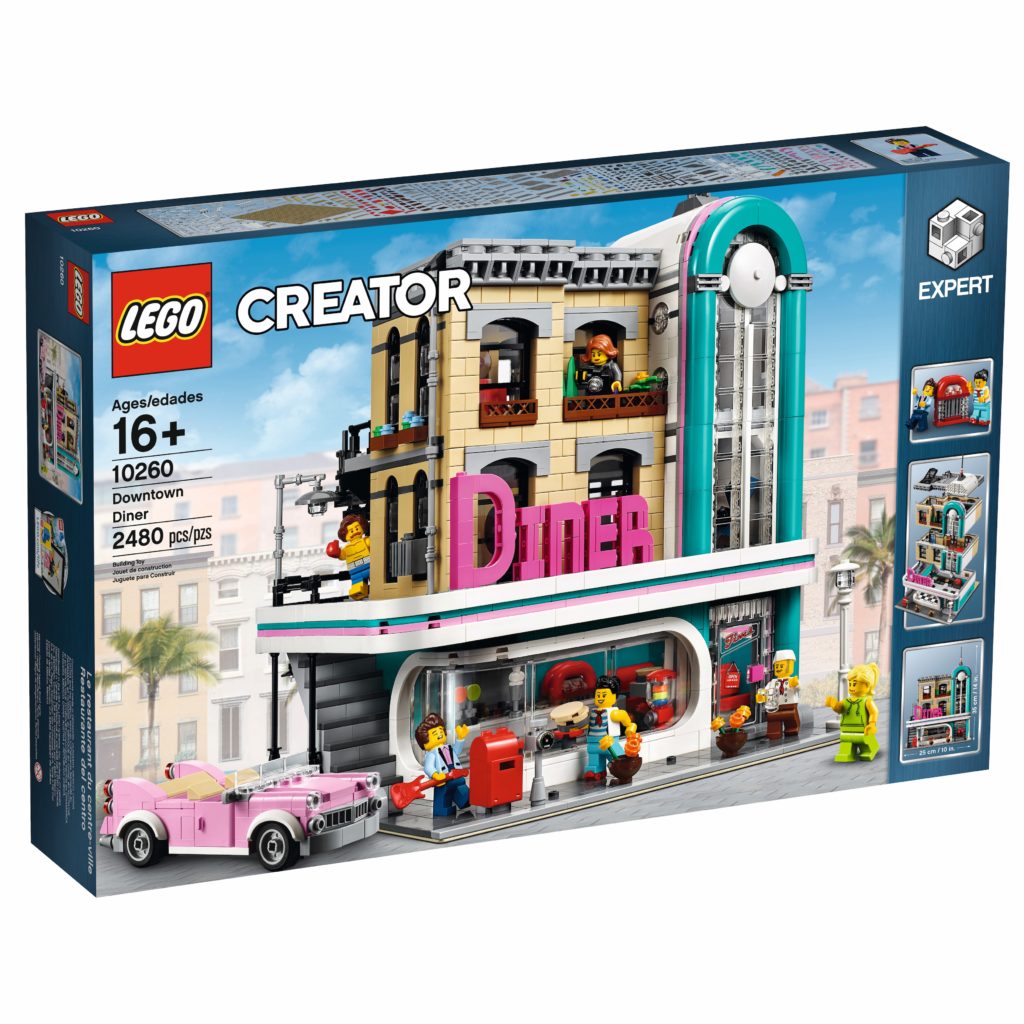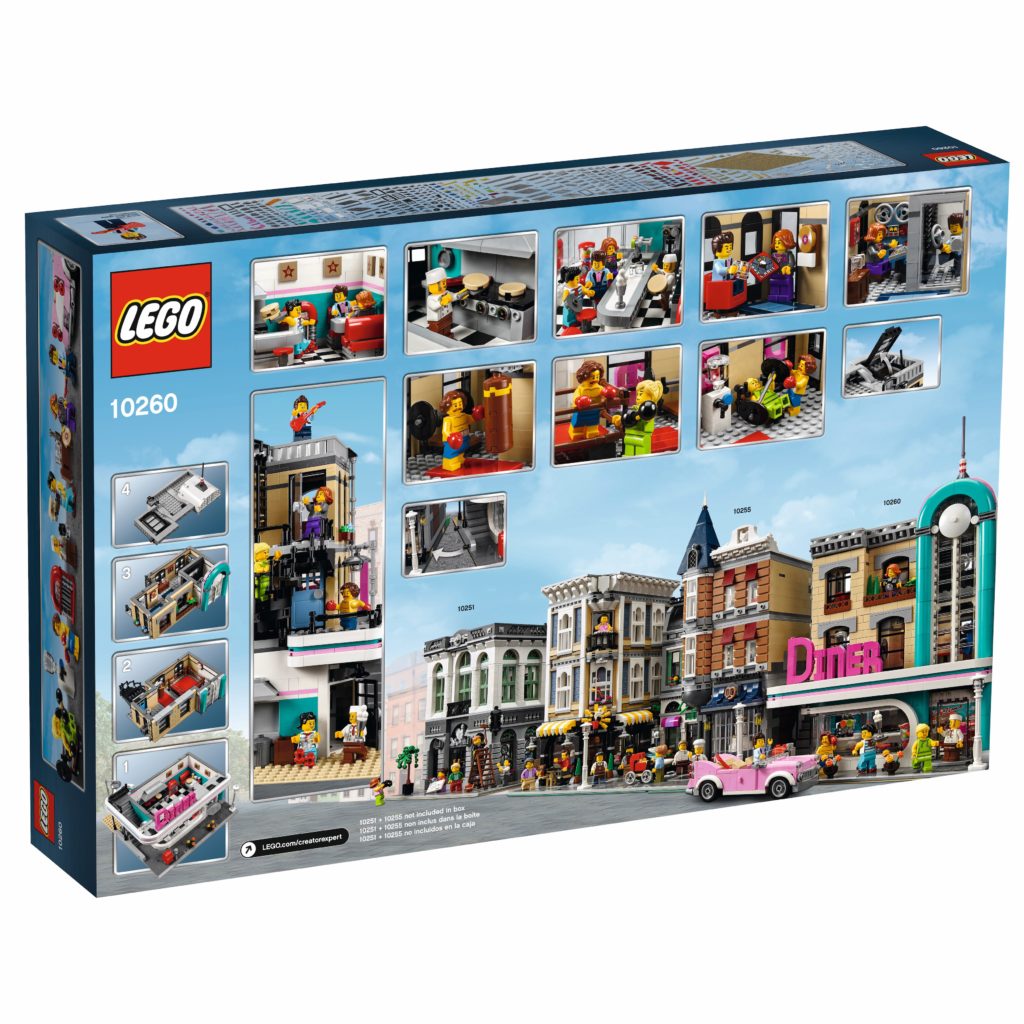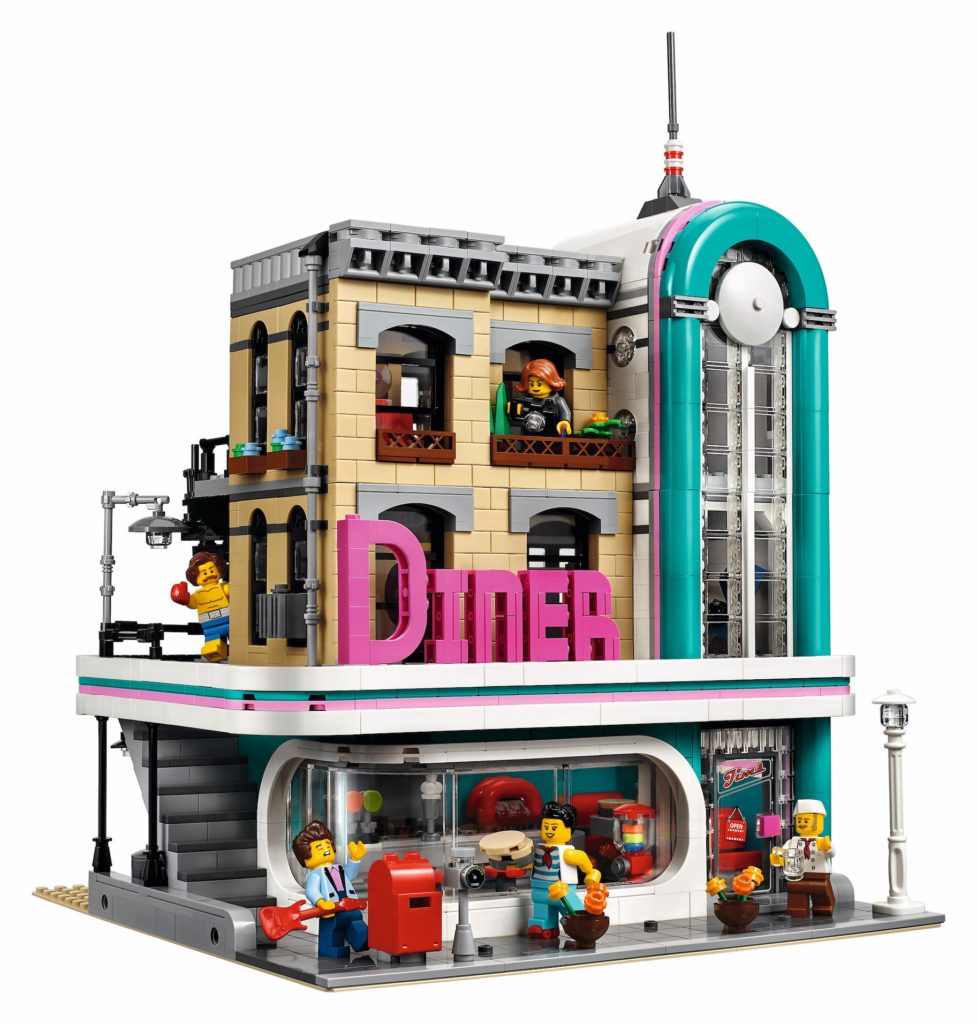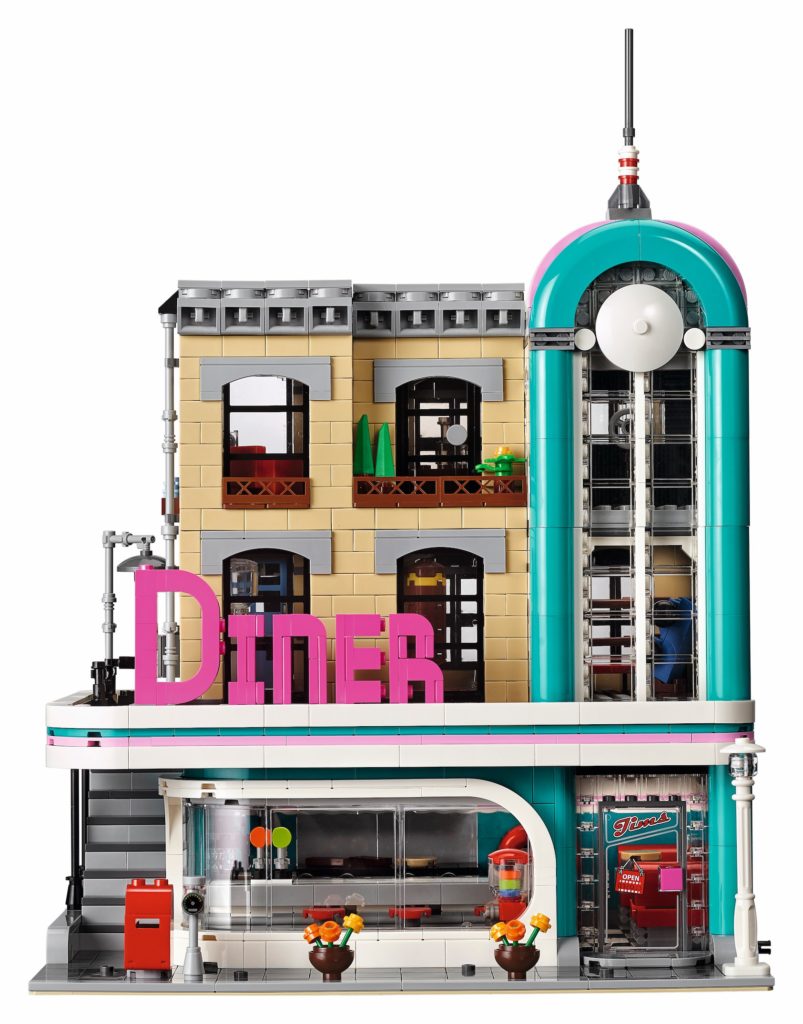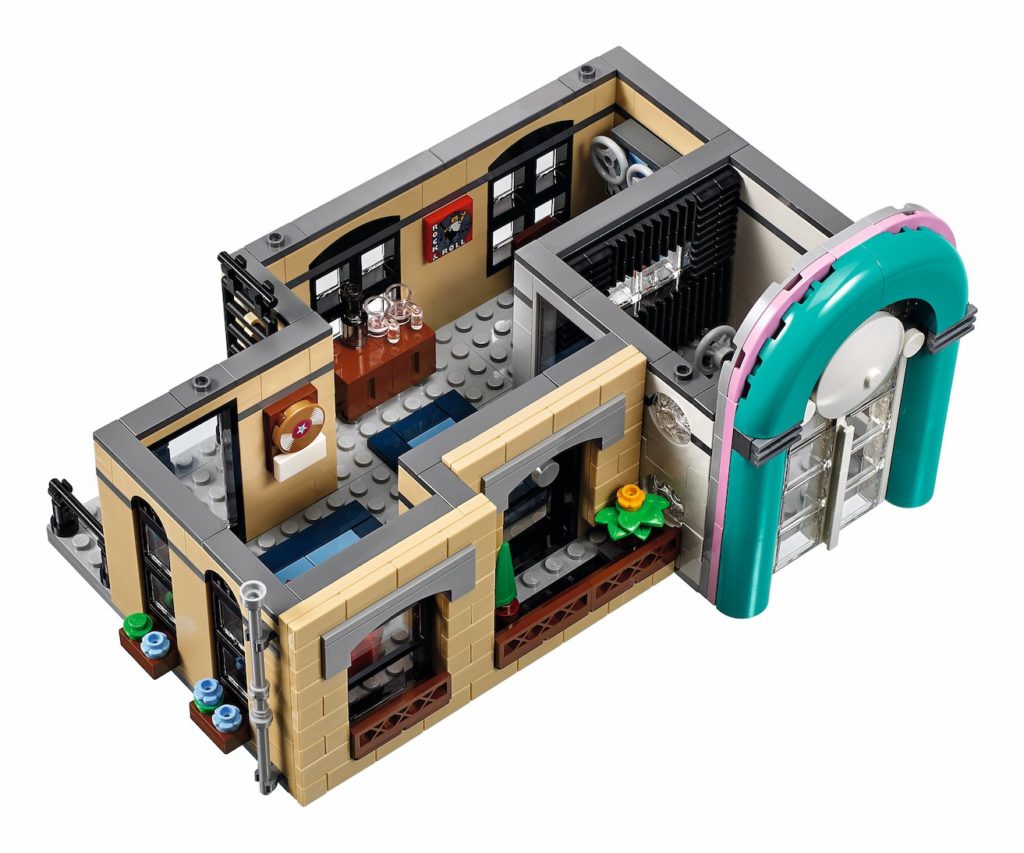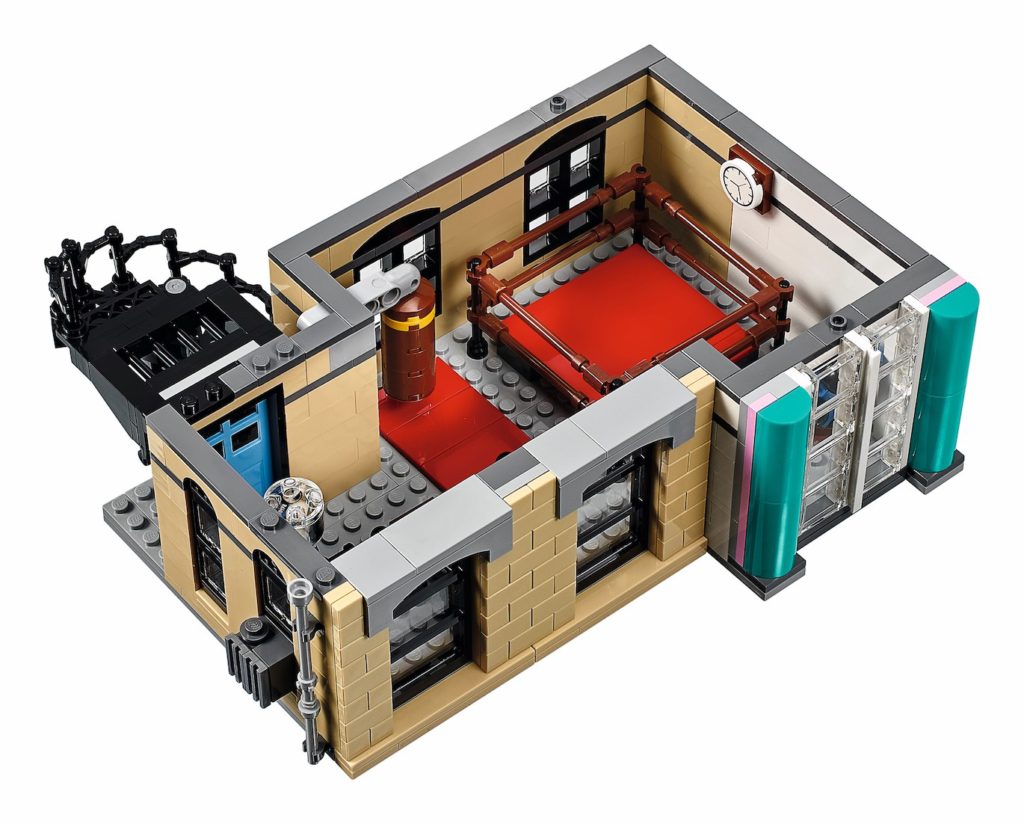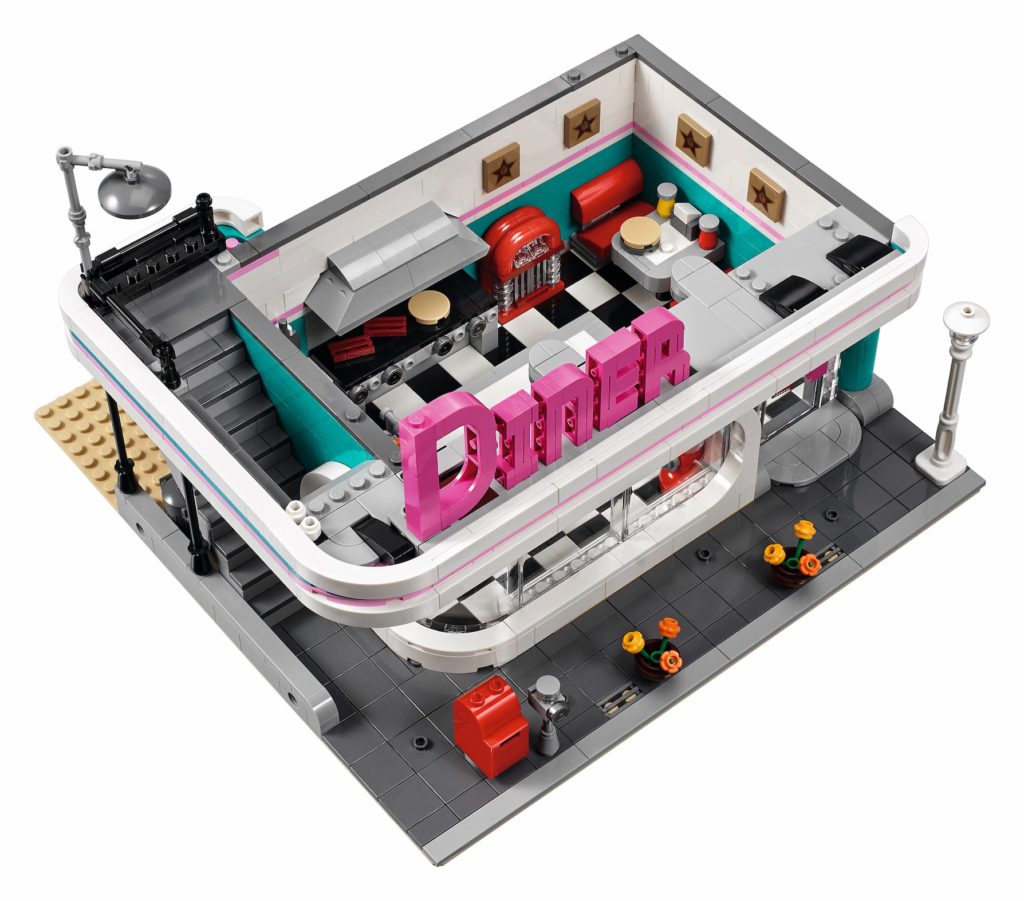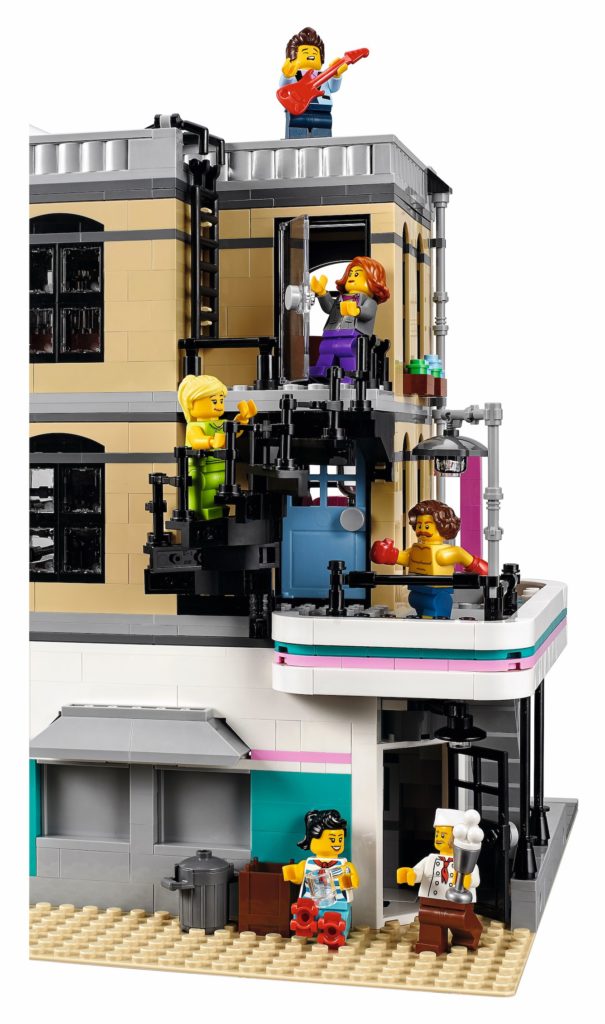 Official 10260 Downtown Diner Press Release
10260 Downtown Diner
Ages 16+.  2,480 pieces.
US $169.99 – CA $219.99 – DE 149.99€ – UK £129.99 – DK 1399.00 DKK
*Euro pricing varies by country.  Please visit shop.LEGO.com for regional pricing.
Discover a place where music is on the menu!
Drop in at the LEGO® Creator Expert 10260 Downtown Diner, where you'll discover a healthy portion of fun and surprises. This impressive model features removable building sections for easy access to the detailed interior, which comprises a ground-level 1950s-style diner with a large curved front window, red bar stools, jukebox, counter and an open-plan kitchen. The mid level has a gym with boxing ring, punching bag and weight training room, while on the upper-level you'll find a recording studio, complete with vocal booth, mixing desk and a refreshments cabinet. The facade of the building features pink-and-teal Streamline Moderne styling with a large 'DINER' sign. Other external features include arched windows, balconies and a staircase, plus a pink convertible car and a detailed sidewalk, complete with mailbox, parking meter, flowerpots and a streetlamp. This incredible collectible toy has been designed to provide a challenging and rewarding building experience with a touch of nostalgia and charm. Includes 6 minifigures.
Includes 6 minifigures: a chef, waitress, boxer, rock star, manager and a bodybuilder.
The 3-level Downtown Diner comes with an array of brick-built details, including a detailed facade with pink-and-teal Streamline Moderne styling and a large 'DINER' sign, external staircase, arched windows, drainpipe, balconies, decorative roofline, opening skylight and a rooftop terrace, plus a detailed sidewalk with a mailbox, parking meter, flowerpots and an ornate streetlamp. This set also includes a pink 1950s-style convertible.
Ground level features 1950s downtown American diner styling with a large curved front window, red barstools, benches, jukebox, candy machine, counter, 2 soda dispensers, and a kitchen with a coffee machine, stove and a cooker hood.
Mid-level features a gym with a boxing ring, punching bag, weight training room, water dispenser and a wall clock.
Upper level features a recording studio complete with vocal booth, soundproofed walls, mixing desk and a refreshments cabinet.
Take a ride in the stylish convertible and head for a diner where fast food and music are on the menu.
Help the chef prepare the fastest food in town while the roller-skating waitress lines up the orders.
Drop in at the gym for a couple of rounds in the boxing ring or a good workout on the punching bag.
Open the skylight and eavesdrop on the making of a hit album.
Accessory elements include roller skates, guitar, golden record award and a buildable barbell.
Remove the building sections to access the detailed interior.
New decorated elements include a decorated door, album cover, lots of teal-colored and pink-colored elements, and a dual-face minifigure with singing and smiling expressions.
Special elements include new flower stalks and flower heads, plus 1×3 'jumper' plates, 2×2 plate with 2 studs and a minifigure torso with boxing gloves.
Collect and build an entire town with the LEGO® Creator Expert Modular Building series 10243 Parisian Restaurant, 10246 Detective's Office, 10251 Brick Bank and 10255 Assembly Square.
Measures over 13" (34cm) high, 9" (25cm) wide and 9" (25cm) deep.
Available for sale directly through LEGO® beginning
January 1, 2018 via shop.LEGO.com
LEGO, the LEGO logo and the Minifigure are trademarks of the LEGO Group. ©2018 The LEGO Group. All rights reserved.