I will be compiling LEGO Rumors I have heard from the LEGO community about potential upcoming LEGO sets/projects.
Please share any LEGO rumors you have heard in the comments below.  Thanks for reading!
October 13-
The next Star Wars (Ultimate Collector Series)UCS set to get a re-design and re-release will be the UCS Imperial Star Destroyer.
The thinking behind this is that the Imperial Star Destroyer is featured in silhouette form on the 75192 UCS Millennium Falcon box (shown below).  This is similar to how the Millenium Falcon was featured in the silhouette form on the box art of the re-released 75159 UCS Death Star.
This is a great example of a set which could be greatly enhanced with an update.  The original wasn't very stable and used a bunch of magnets to achieve the shape and look of the Imperial Star Destroyer.  This could be easily re-worked with the more modern pieces and much more detail could be added.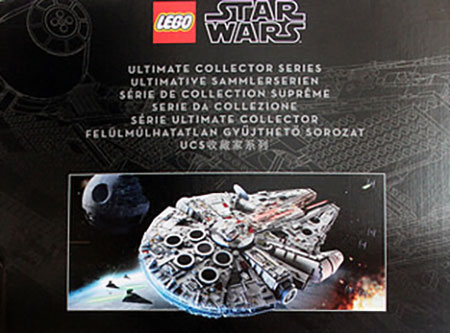 Harry Potter resurgence with a (Disney Castle sized) Hogwarts Castle and a Collectible Minifigure series(CMF)
Not much to corroborate this, but it is definitely plausible and I feel it would be warmly greeted by LEGO fans, Harry Potter fans, and collectors alike.
Rumored size would be similar to the Disney Castle 3500-4000 piece range.
Rumor is a 2018 release of both.  This would be the 20th Anniversary of the Harry Potter books being widely released outside of England, it was first published in England June  26, 1997, then the United States got the books September 1, 1998.    Not sure if the release info would have anything to do with a marketing campaign.
New Modular set for 2018
This one has been tight-lipped, other than that there will be another modular.  There was some thought/fears that the Assembly Square would be the final modular, but it looks like the line will continue.  I will keep this updated.